Delivery and Takeaway - Pizza 4U
It all started with a dream, an idea and eventually a vision. Pizza4U opened its first take away/delivery business unit in 2007. Family run, we commenced operating our take away/ delivery food business from a tiny corner shop in Hamrun. For two years we operated from this shop were the response from our customers was very positive and encouraging. The fast growing demand for our pizza's made us realize that we have to move on to a larger premises.
We moved to a larger premises located at 9 Schembri Street, Hamrun (Mile-End) in order to cater and reach for the ever increasing demand. Apart from take away food orders we also deliver and have a seating capacity.
Apart from our popular pizza's which are made from fresh dough, we are also offering the Cheesy Crust pizza which is available from Monday to Fridays.
We also serve pasta: our popular spaghetti, penne and tortellini. Customers can choose the salad of their choice.
We also offer platters, wraps and Turkish kebab. Our tasty mouth watering Southern fried chicken pieces are Halal and are supplied to us fresh by Smina on a daily basis. 
All food orders can be collected from our shop or delivered. We try to serve and accommodate our customers to the full and recommend that customers order online or phone at our premises to place their order so that we would be able to serve them on time especially on week-ends.
"We promise to do our best for all of our customers."
Charles Zahra, Owner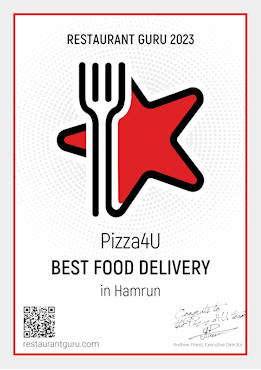 2022 Discount Scheme on All Orders
We are happy to announce the new 2022 Discount scheme where all our customers will benefit from a 10% discount on all food orders from Monday to Friday up until 3 pm. To put things in perspective, a Pizza Capricciosa which used to cost €9.50 will now cost €8.55. Please check out the Rewards section for more details.
COVID-19 Update
Due to the unfortunate on-going events, we are utilizing our whole fleet of vehicles to keep up with the demand. We are not accepting order collections/pick-ups any more as a precautionary measure. We would appreciate it if payments are made by card so as to reduce the risk of transmission. We are also announcing a 10% DISCOUNT on all Web and Mobile App orders between Monday and Friday to encourage people to stay safe at home while we prepare and deliver your order. We're in this together!
Thank you